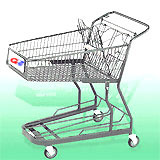 Newly designed wholesale store with lots of features you can use, secured real-time credit card processing including PayPal. Shipping options include FedEx Direct (Ground, 2 Day Air, Express Saver, Standard Overnight, Priority Overnight), USPS Priority Mail.


*Google Checkout (must meet minimum order amount)


*Canadian customers can also place the order in this store.


Please call or email us with detailed item #s and quantities.


© 2013 G&Z International, Inc. All Rights Reserved