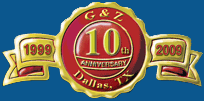 We are importers and wholesalers of collectible gifts, oriental apparel & accessories and home decoration items.

Both retailers and wholesalers are welcome.

Our business started in Jan., 1999. We have imported a variety of gift items and are now focusing on ORIENTAL GIFTS, BABY-CARE PRODUCTS, APPAREL & ACCESSORIES.


Nearly 1000 items available at our stores for your convenience of shopping online. We stand behind our products to ensure the satisfactory of our customers.
We wholesale to business only! Tax ID or Resell Permit #s are required.


G&Z International, Inc. respects the privacy of our customers and visitors to our website. We do not give, sell or rent your personal information to any third parties under any circumstances for commercial, advertising or other purposes.

We will only use the information that we collect about our customers to process their orders and to provide them with the best possible service in the future.

Any information given at the time of ordering may be collected and used for marketing purposes by ourselves only. If you would prefer not to receive information about our products please send an email to service@gzintlinc.com.
Read more here.


© 2013 G&Z International, Inc. All Rights Reserved